Fancy a knock-around at Barwick Tennis Club?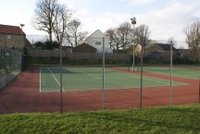 With Aberford's tennis still awaiting resurfacing and having access issues (see recent parish council minutes) you might like to go over to Barwick for a knock around at tennis. The club is on the area where the fair is normally located, on the fields to the back of the New Inn Pub.
There is a club session on Sunday mornings from 10:30 onwards, with all levels of ability welcome.
Check out the club's website:
Barwick Tennis Club