Colour postcards of modern day Aberford
15 Glossy Colour postcards of modern day Aberford
ALL funds go straight to Aberford C of E Primary School
now available on ebay.co.uk ...
Item number:
290061308417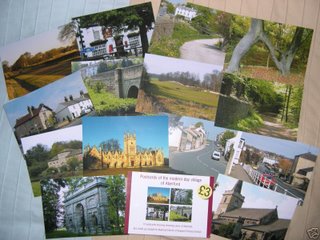 A pack of full colour glossy postcards containing 15 high quality postcards of the lovely Yorkshire village of Aberford.
The packs have been printed to raise funds for Aberford C of E Primary School.
The photography and printing were generously donated by Mr Brian Hull and Jade Press respectively, so you can be sure every penny will go straight to help the school funds.
A line of text has been added to the bottom of the reverse of the cards to explain the details in the photographs. Learn more about:-
The Love Tree
The Triumphal Arch - built to commemorate the American War of Independence
The Almshouses
The Great North Road
The Cock Beck
The Arabian Horse (a unique pub name)
The Swan Hotel (a former coach house)
The price is per pack of cards.
For further information on Aberford please see:-
www.parlington.co.uk
www.aberford.net
www.aberford.info
PLEASE NOTE - the copyright with these photos remains with Brian Hull who can be contacted via the parlington web site above.