Village boy runs a long way for local charity
Aberford resident, Mark Wheeler, ran the Edinburgh Marathon last Sunday (11th June 2006) in aid of Martin House hospice. This was Mark's first marathon and despite soaring temperatures (average of 26c) he managed to complete the course in 4:47 minutes (unofficially).
Mark has raised nearly £600 so far for Martin House Hospice for Children, and would like to thank all the people for contributed so generously to this very worthy cause. If you would like to add a further donatation to this cause you can visit Mark's sponsorship website @
http://www.justgiving.com/MarkWheeler
.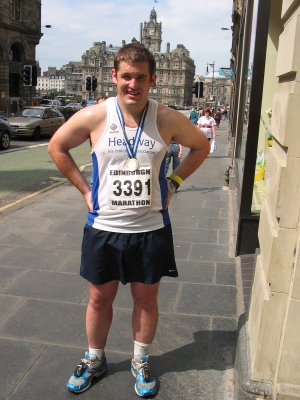 Mark with medal after the race in Edinburgh
Other pictures from the day: