The Gascoigne Family of Parlington and Lotherton Hall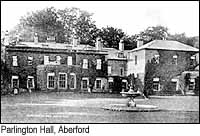 The Gascoigne family originated in Gascony and is said to have come to England at the time of the Norman conquest. By the fourteenth century the Gascoignes had estates at Gawthorpe and Harewood, where some of their tombs can still be seen. Eventually the estates were to pass on to Thomas Wentworth of Wentworth Woodhouse, who married the Gascoigne heiress, Margaret, in 1567.
The junior branch of the family, headed by Nicholas Gascoigne, acquired the estate of Lasingcroft in 1392. This was to remain the family seat until the sixteenth century, when Richard Gascoigne purchased the estate of Barnbow not far from Leeds. This in turn was to be supplanted by Parlington. Set due west of Aberford, the Parlington estate had been bought by Richard Gascoigne's father John from Thomas Wentworth in 1546.
Sir John Gascoigne, the 1st Baronet, succeeded in 1602; he was Richard Gascoigne's grandson and until the death of Sir Thomas Gascoigne in 1810 there was a continuous succession. Sir John and his family had reverted to Roman Catholicism in 1604. Sir Thomas, 2nd baronet, also a zealous Catholic, was an ardent supporter of the Royal cause in the Civil War and had his land confiscated in 1644. A critic said of him that he was mentally incapable, but he gave some indication of his ability when he secured his own acquittal in the face of the notorious Judge Jeffries, on a charge of treason for his part in the so-called Barnbow Plot. He afterwards retired to Lampspringe, in Germany, where his younger brother John was Abbot, and died there in 1686.
His surviving son succeeded him but died without an heir, whereupon the estates passed to his two nephews in turn. The elder, Thomas, 4th Baronet, who is said to have conformed to the Established Church, also died without heir, leaving his estates to his brother. In 1723 the lands were inherited by Edward Gascoigne, who became the 6th Baronet. He travelled extensively on the Continent, returning to settle at Parlington in 1726. In the same year he married Mary, the daughter and heir of Sir Francis Hungate of nearby Huddleston Hall. She eventually brought with her a considerable estate; the Elizabethan Hall survives to this day.
He was succeeded by his two sons, the younger, Sir Thomas, became 8th Baronet in 1762. Born at Cambrai in 1745 and educated in France, he had spent a large part of his early life on the Continent. He returned to settle at Parlington in 1779, a year which also saw him in Paris, Bordeaux, Milan, Naples and Rome, where he was painted by Pompeo Batoni. He is depicted in the elegant pose and cultured surroundings, symbolic of his education, taste and intellectual pursuits. Such portraits were Batoni's speciality. Indeed it was Sir Thomas who acquired Francis Wheatley's Irish House of Commons and ordered the Chinese armorial tea and dinner services which can still be seen in the house. He was a member of Parliament and the strength of his political views is reflected in the Triumphal Arch built on his estate at Parlington to show his approval of American Independence. The architect was Thomas Leverton, who was also among those who submitted designs for a new house at Parlington; John Carr of York was another. Sir Thomas was a keen agriculturist and racehorse owner; his successes are commemorated in the magnificent series of Race Cups at Lotherton. He renounced the Roman Catholic faith of his predecessors and died without heir in 1810. Under his will the estates passed to Richard Oliver, son of the Hon. Silver Oliver of County Limerick: he married Sir Thomas's step-daughter and, taking the surname and arms of Gascoigne, lived at Parlington for thirty-three years and maintained the agricultural interest and racing successes of Sir Thomas. It was he who in 1825 purchased Lotherton Hall and Park from Lamplugh Raper, a local landowner.
R. 0. Gascoigne's daughters Mary Isabella and Elizabeth inherited the estate in 1843, and whilst unmarried lived together at Parlington. They were noted for their generosity both locally (building the Almshouses at Aberford in a picturesque Gothic style in 1844) and in Ireland, where they assumed responsibility for the relief of distress on their Oliver estates during the potato famine of 1846-47. When they married they divided the Yorkshire lands between them, Mary Isabella living at Parlington with her husband Frederick Charles Trench, who took the surname Gascoigne. Elizabeth married Charles' cousin Frederick Mason Trench, the 2nd Baron Ashtown, in 1852. They took the Lotherton property although they did not live there, and died without an heir. In 1893 Lotherton passed to Mary Isabella's son Colonel Frederick R. T. T. Gascoigne, a noted soldier and traveller.
Together with his wife Gwendolen, daughter of a famous engineer, Sir Douglas Calton (and second cousin to Florence Nightingale), the Colonel set about remodelling and improving the house to accommodate his growing family. From 1897 to 1931 a new dining room, entrance hall, drawing room and servants' wing were added to the house, whilst Mrs Gascoigne created the charming Edwardian gardens along the south front. In 1905 the Gascoignes inherited the Parlington estates and hall. Many of the furnishings were transferred to Lotherton and the old house was shuttered and abandoned. It was finally demolished in the 1950s.
Colonel and Mrs Gascoigne had three children, Alvary, Oliver (who died in infancy) and Cynthia. Alvary inherited the house in 1937 and, on his retirement from the Diplomatic Service, lived here with his wife Lorna Priscilla, until his death in 1970. Sir Alvary and Lady Gascoigne made few alterations to the house but enriched it with oriental works of art acquired during Sir Alvary's service as British Ambassador to Japan and Moscow. Sir Alvary's only son, Douglas Wilder Gascoigne, was killed in action during the Second World War and in 1968 the house and its contents were presented to the City of Leeds, together with an endowment fund for buying works of art for the collection. Many of the Gascoignes' friends and retainers continue to live on in Aberford and the surrounding area.
Source:
http://www.leeds.gov.uk/lothertonhall/lothgasc.html