St. Ricarius ...
I'm no expert on saints but I believe that Richarius is the Ricarius that the church in Aberford is named after ... your comments / corrections on this are, as ever, welcome!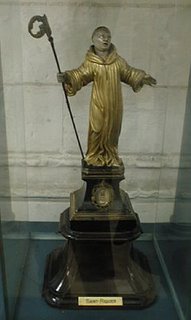 RICHARIUS
Also known as Riquier
Memorial
26 April
;
9 October
(translation of relics)
Profile Born
pagan
. As a young man he protected Cadoc and Frichor, Irish
missionaries
in danger from local non-Christians. While in hiding, they
converted
him. He became a
priest
, travelling the country on a donkey and preaching the Gospel. Worked in
England
for several years, then returned to
France
to found an
abbey
at Centula.
Abbot
.
Preacher
. When
King
Dagobert visited him, he was so frank and blunt with his advice, the
king
gave him a large reward; he passed it on to the
poor
. The first to work on ransoming captives. Eventually resigned all offices and became a
hermit
.
Born at Centula,
France
Died
26 April
645 at Foret- Moutier apparently of natural causes; initially buried in a hollowed-out tree because that's all his disciple Sigobart could afford
Canonized
Pre-Congregation
Source:
http://www.catholic-forum.com/saints/saintr82.htm