HMS Aberford ???
Does anyone know whether the HMS Aberford is named after Aberford in West Yorkshire?
This is what I have found out about it so far ...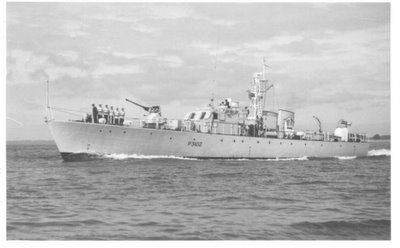 Aberford P3102
"Ford" class Patrol boat
HMS Aberford P3102
Ford Class Seaward Defence Boat
59-60
Northern Ireland
Builders: Yarrow
Image Source:
http://www.navyphotos.co.uk/ford%20class%20patrol.htm
Launched 1952: HMS ABERFORD

HMS ABERFORD
Built by Yarrow Shipbuilders Scotstoun,
Yard No 2031
Last Name: NYATI (1964)
Launched: Monday, 22 September 1952
Built: 1954
Ship Type: Seaward Defence Boat
Owner History:Royal Navy
Status: Scrapped - 1971
Source:
http://www.clydesite.co.uk/clydebuilt/viewship.asp?id=1527
"The Royal Navy granted Kenya Navy as a gift HMS Aberford, an inshore mine sweeper which was renamed KNS (for Kenya Navy Ship) Nyati. Two boats and motor cutters were also given to our Navy and used in training the young seamen."
Source:
http://www.nationaudio.com/News/DailyNation/280899/Features/story1.html