Cricket - The Arabian Horse vs. The Black Swan
The Arabian Horse vs. The Black Swan
August 2001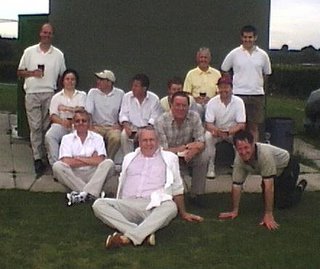 The battle lines were drawn again as the vanquished cricketers from the Mucky Duck were replaced by the Black Swan all-stars who were attempting to gain their revenge; ................... Trickery was afoot, the all-stars arrived on time ........... Sober, some were ready strapped up with pads, arm guards, helmets, boxes in position with pressed & creased flannels.
They were practising running catches, bowlers were limbering up, press ups & stretching exercises were co-ordinated by some on site trainer, the stench of lineament was everywhere.
The Arabian Horse Team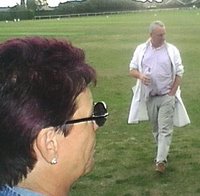 Not to be deterred the Arab Cricketers went into a huddle and disappeared round the back of the pavilion, not really knowing what to do then they decided to throw balls at one another, however it was decided that before anyone sustained anything broken or dislocated, the toss should be made, Davison lost and the Arab were put in.
Early wickets tumbled, mistakes were few on the fielding side, there were no no balls or wides this time, the game was on, lesser teams would have capitulated; not the Arab Cricketers, they were not about to lay down and accept defeat without a fight; they played like demons, all of them, running for everything, keeping the pressure on the all-stars whose milky white flannels were now becoming stained green & tainted .............. they were being run ragged....... The fielding side called enough, it was half time. The chuckles and sniggers from the all-stars was now replaced by sweat starting to appear on their brows; on resumption the Arab total rose to a creditable 147 after 30 overs this was at least going to be a challenging tally.

Enter Raymond Alderson, bowling a sedentary pace of right arm over, early wickets were taken, notably big Simon All Star who was caught at mid off by Mark Wheeler, just as well as Raymond had been run out by Mark in their innings and had threatened to put Mark's house up for sale!!! The all-stars looked anxiously at one another, morale was running low, this wasn't going to plan and they knew it. Not giving a second thought to the possibility that some of them may never walk again or at least not be able to get up in the morning the Arab Cricketers were like a swarm of bees, they were everywhere, runs were hard to come by and wickets were falling ............ it was a tense time.
Requiring 35 runs off 10 overs the All-stars ripped up the plan and decided to revert to slogging; enter "Typhoon Keeney". Roared on from the Arab supporters he ran up and delivered an UN-playable delivery that sent all three wickets cartwheeling and bails scattering, the crowd went wild, unfortunately this was the last wicket to fall.
Against all the odds and the All Stars scheming the Arab Cricketers, despite performing heroically with the bat and ball lost the battle, the All-stars carried the day, but they knew they had been in a game.
Copyright
rod@householdlinens.com